The children have broken up from school; the great British summer is truly under way; we actually have some sun! So what do we do? Jump in our cars to head to the coast and end up with a 3 hour delay on the M6! Not a great way to spend the holidays. Drivers are been warned that they could face major delays due to traffic jams on the roads this summer.
According the traffic information company Inrix drivers can expect Saturdays to be up-to 25% busier:
The first major traffic jams will be on Friday July 25, and the five Saturdays that follow, starting July 26 and ending August 23, are expected to be the most-congested days of the summer.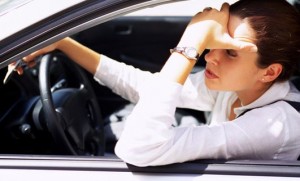 Unwary travellers could spend hours in queues of traffic, if you're travelling to catch flights, trains or ferries you need to plan ahead and build in extra travelling time! The busiest Saturday is likely to be the 9th August.
According to research from Kwik Fit British families will rack up a total of 15.7 billion miles in their own cars during holidays this year. That's a lot of time and miles to be spent behind the wheel in traffic jams! Here are some tips to avoid the getting stuck:
Plan alternative routes – Look for at least two additional ways you can complete your journey.
Check traffic reports before you leave. Traffic updates are available on the radio, news, and Internet. Once you hit the road, continue listening to traffic reports on the radio.
If possible travel at a quieter time of day. Early morning, late evenings are obviously going to be quieter times to travel. While waking yourself up in the early hours might not be attractive it saves potential lost hours bumper to bumper in traffic jams!
Use a professional driver. Consider using a professional driver, especially if you have flights to catch. They are experienced and have up-to-date traffic information which should ensure you reach your destination on time.
No one can plan for the unforeseen accidents but following the above simple steps may save you from hours of frustrated driving!