Road safety week 2013 starts on Monday 18th November, now in its 17th year is the UK's biggest event for schools to promote road safety, this year employers are being asked to support.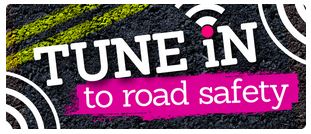 Road Safety Week is the UK's biggest road safety event, coordinated annually by the charity Brake and involving thousands of organisations, schools and communities.
Government statistics reveal five people are killed and 63 are seriously injured every day on UK roads. One in four serious road casualties are in crashes involving at-work drivers. Road death is the number one killer of young people aged 16 – 24, and the second biggest killer of under 15's, so Road safety week has an important message for all ages!
Brake's main theme for 2013 is 'Tune in'. Through national and regional media, Brake will be raising awareness of the importance of tuning in to road safety and giving it our full attention – particularly if we're at the wheel, but also when we're walking, cycling, skating, running, you name it – to keep ourselves and each other safe.
Road Safety Week is the ideal time for organisations to get serious about at-work driver safety.
 At-work drivers are involved in a huge proportion of serious road crashes. These crashes cause terrible and preventable suffering, and they cost businesses dearly. However, we know from our long-running experience of working with employers that developing robust policies alongside a safe driving culture can make a massive difference to the safety of at-work drivers.
Employers can visit the Road Safety website for plenty of ideas to promote Road safety week. Last year hundreds of organisations ran road safety activities.
Driver distraction is a major cause of death and serious injury in the UK. Driving is the most dangerous thing that most of us do on a daily basis and requires your full attention, but many drivers have a sense of over-confidence and feel cocooned in their vehicles, so attempting to multi-task is common.